June, 2023 | PRESS RELEASE
Beeyond Media Launches New Advanced Audience Segmentation Tool, Beeyond TrueReach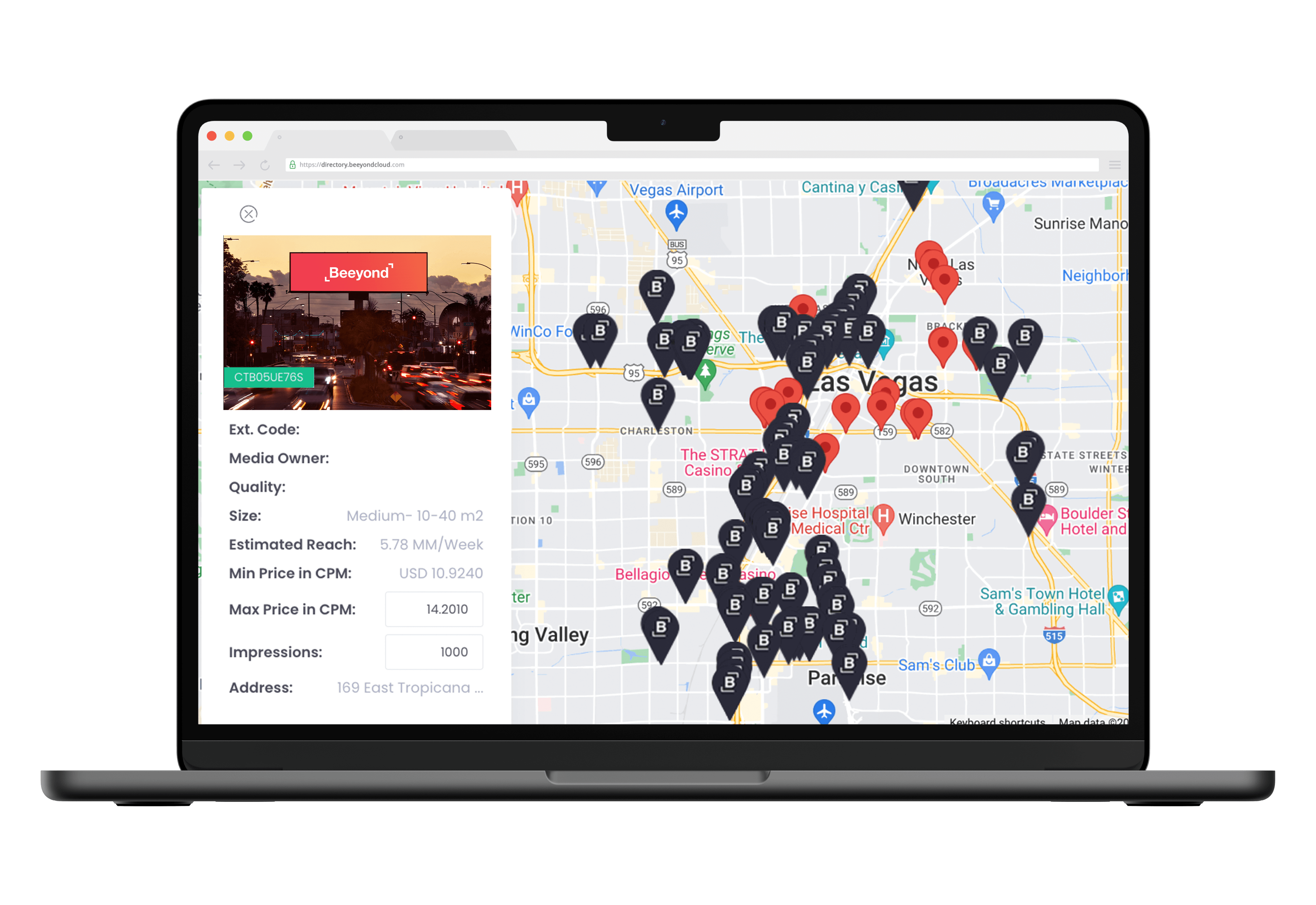 In effort to continuously reinvent the classic advertising channel, the new segmentation tool will take DOOH company into its next era, unlocking unparalleled insights and targeting capabilities for advertisers
Miami, FL – June 15th, 2023 – Beeyond Media, leading programmatic digital out of home (DOOH) advertising demand-side platform (DSP), today announced the launch of its new, highly advanced, audience segmentation tool, Beeyond TrueReach. As advertisers continue to struggle with inadequate targeting in out of home (OOH), this tool will be crucial to maximizing the impact of their advertising efforts.
New research shows that the DOOH market is expected to reach $58.67 billion by 2030 and as such, the sector continues to be one of the fastest growing advertising channels. Coupled with industry giants like Google shifting its reliance away from cookies, the upleveling of contextual advertising matched with cutting-edge technologies is giving advertisers access to valuable insights through DOOH.
The launch of Beeyond TrueReach is a continued investment in its Segmentation Intelligence offering, which sources data and information from leading data providers arming clients with the insights to plan and execute highly targeted campaigns. With an extensive selection of over 900 segmentation options, Beeyond's new tool provides advertisers with valuable insights into their audience's behaviors, demographics, geographics and psychographics, enabling them to tailor campaigns and messages for maximum impact. This enhanced targeting has a direct impact on campaign ROI, maximizing the effectiveness of advertising spend and driving higher engagement and conversion rates.
"We are excited to introduce Beeyond TrueReach, as it represents a significant leap forward in DOOH advertising targeting," said Alejandro Donzis, CEO of Beeyond Media. "By offering a wealth of segmentation options and empowering advertisers with in-depth insights, we are revolutionizing the way advertisers engage with their audiences. This tool sets a new standard for precision targeting and campaign effectiveness in the DOOH space".
Beeyond's new audience segmentation tool is designed to address the challenges associated with audience targeting in DOOH campaigns. This cutting-edge platform harnesses advanced data science techniques and a diverse range of data sources to offer advertisers unparalleled targeting capabilities. By leveraging diverse data sources, synthetic population generation, extensive data analysis, carefully curated panels, activity pattern analysis, holistic population insights and future predictions and infrastructure planning, Beeyond's targeting solution goes beyond the limitations of OOH advertising. Beeyond TrueReach offers a more comprehensive and efficient approach to DOOH targeting.
About Beeyond Media:
Beeyond Media was founded in 2019 by CEO Alejandro Donzis in an effort to bring transparency, efficiency and innovation to the classic advertising channel. After consolidating in various countries in Latin America, in 2022 the DOOH company expanded operations to the U.S. and Canada. With access to over 600,000 devices throughout the Americas, Beeyond Media continues to usher DOOH advertising into the future and help brands like Chanel, L'oreal, American Express, and Heineken inspire people wherever they go.